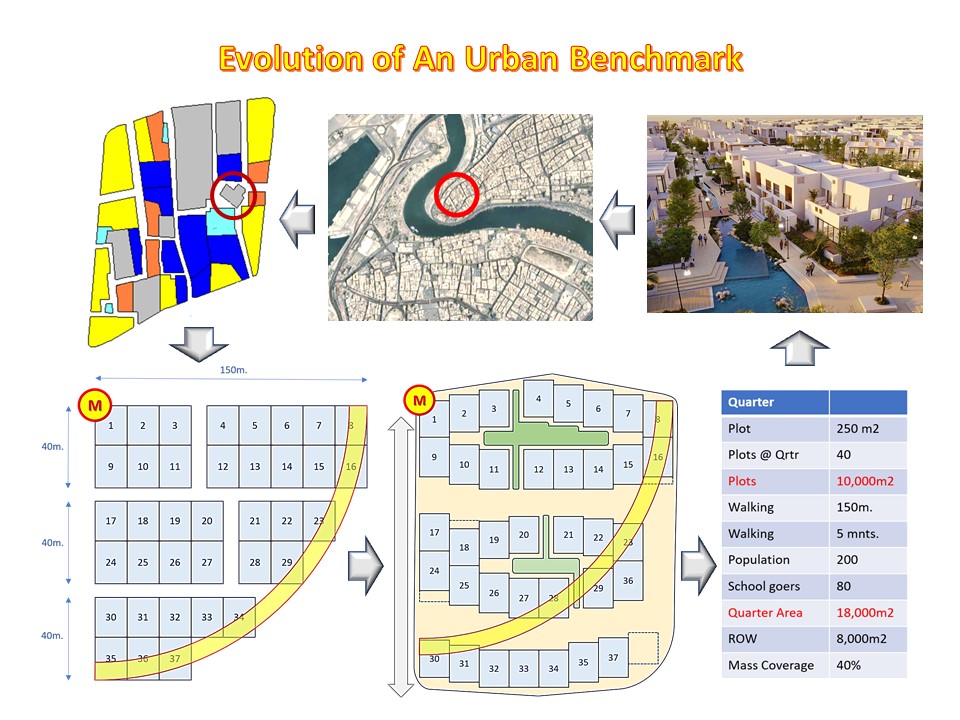 During the last few years, many thematic concepts were published towards the optimum and excellent urban modelling..
The Quest of excellence in Urban modelling is dated back to the invention of the City itself; which had interpret wants beyond the rural supply..
The City was the Optimum Model that Indian ancestors had founded on the Sindh River many centuries ago ahead of Mesopotamia, Roman and Greek..
Being on the edge between ancient urban world and the futuristic one, at Dubai; was a continuous exercise to find out both base and motivation to evolve the meaning of urbanity and related implications..
In my own examinations, the old neighborhoods of Dubai had a formula that went below the motorization corridors, dust and noise..!
Small Mosques; actually Prayer-Places, were almost 300 meters apart, in all directions; which allows a 150 meters walking distance or 5 minutes.. This was specifically convenient for the elders at the exceptionally hot climate.. Along with narrow zigzag Sakik or Alleys; which provide shades and jet-cooling effect..
In Today's implementations; this shall create an urban pattern, which includes around 150 townhouse plots, 800 population and massing of 40% of approximately 70,000 sq.m..
Among the reticular setting, green nodes can be stretched and allow for social backdoor activities; which was another characteristics of the old quarters..
Vehicles; which becomes inevitable in modern life style, can have a one-direction single lane access from front only; with minimum ROW allocations.. Yes, it will be a nightmare for 2nd car or visitors'; yet soft mobility should rule..
The non-straight streets are not welcomed by civil engineers, yet; they are more humanized without curb or vacancy for side parking..
Main road shall comply with all traffic regulations, safety, cross sections and wayfinding signs..
The tiny mosque will serve approximately 1000 male worshipers; who would perform the co-prayers (Jama'h) several times to fit to the area.. The Mosque usually had a plot of 300 sq.m, with 70% is shaded and 50% enclosed.. Accordingly; Jama'h will be conducted 3-4 times as convenient..
This repeated ceremonies of Jama'h prayers is a unique characteristic of Islam in the entire the Arabian Gulf region; which adopt to spatial constraints and limitations..
"I do reserve the intellectual rights of this analysis"