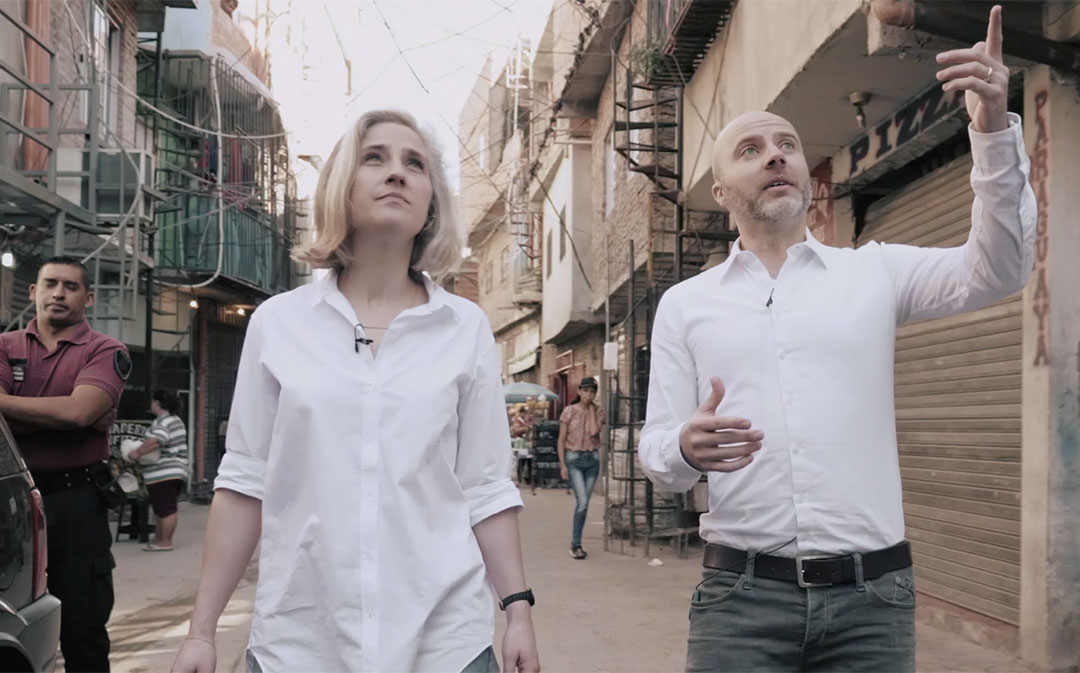 Originally a four part series for Danish television, the international documentary – Great Architecture on a Small Planet – sets the scene for why architecture is important in tackling some of our greatest global challenges. It presents Danish based thinkers, strategists and practitioners advancing sustainability in the built environment.
Personally, as an Architect, turned Urban Planner and Project Manager; I do not think that Architecture can effectively contribute to wider development changes and scores.. Architecture by definition is a wealth and surplus driven and combined activities that mostly ruled by aesthetics and proportions of particular objectives; while development challenges require complex scientific approaches that would trade the taste for the sustainable populist remedies. Adil Abdalla
Among them, Bjarke Ingels showcases New York City's efforts to protect Lower Manhattan from sea level rise while activating public space (BIG's hedonistic sustainability concept). Anders Lendager shows how circularity thinking can reduce housing's Co2 impact by up to 80% in Copenhagen. CF Møller Architects reintroduce the benefits of wood construction techniques in buildings. And SLA propose clean air, cool microclimate, low noise building solutions at one of Paris's most polluted highway sections. It's an assortment of inspiring interventions that I highly recommend checking out, and not only because Gehl's work is also featured in it!
Watch version with English subtitles here
Building with the strengths of informal settlements
Gehl's contribution focuses on urban strategy and design within informal settlements, namely Barrio 31 in Buenos Aires, Argentina. Located adjacently to Buenos Aires' main transit hub, Barrio 31 is home to around 40.000 people across 8,000 households. It's a close-knit informal settlement (otherwise referred to as a slum) that, despite its location surrounded by 'formal' urban neighbourhoods and transit infrastructure, is an isolated community. Without formal connections to the wider city the Barrio's residents are physically disadvantaged in accessing urban services and provisions. The lack of physical accessibility reinforces a perceived separation between the Barrio's residents and surrounding neighbourhoods, a self-fulfilling and detrimental loop that embeds stigmatization on both sides of the divide.
Its an unfortunate fact that the conditions of Barrio 31 epitomize a standard of urban living shared globally by over a billion people today and are projected to reach 2 billion by 2030. Therefore, the way we approach and work to improve the spatial characteristics and physical conditions, as a means to improve quality of life within informal settlements, is clearly important to a growing proportion of the urban world.
Looking back there isn't much inspiration or best practice of how to improve the situation in a dignified way. Top down orientated efforts to build our way out of informal urban growth (many from the perspective that informal settlements are 'illegal' and therefore totally illegitimate) have had few positive effects on people's lives. Formalization, non-contextual social housing initiatives and removal and clearance are rarely in compliance with local populations and all too often lead to a range of wicked problems and consequences that reinforce the negative side of things e.g. overcrowding, crime, lack of access to education, lack of access to basic services. Additionally, in efforts to legitimize the built environment, it can be seen that such approaches duly ignore the positive aspects of informal settlements, such as the strength of community bonds and values.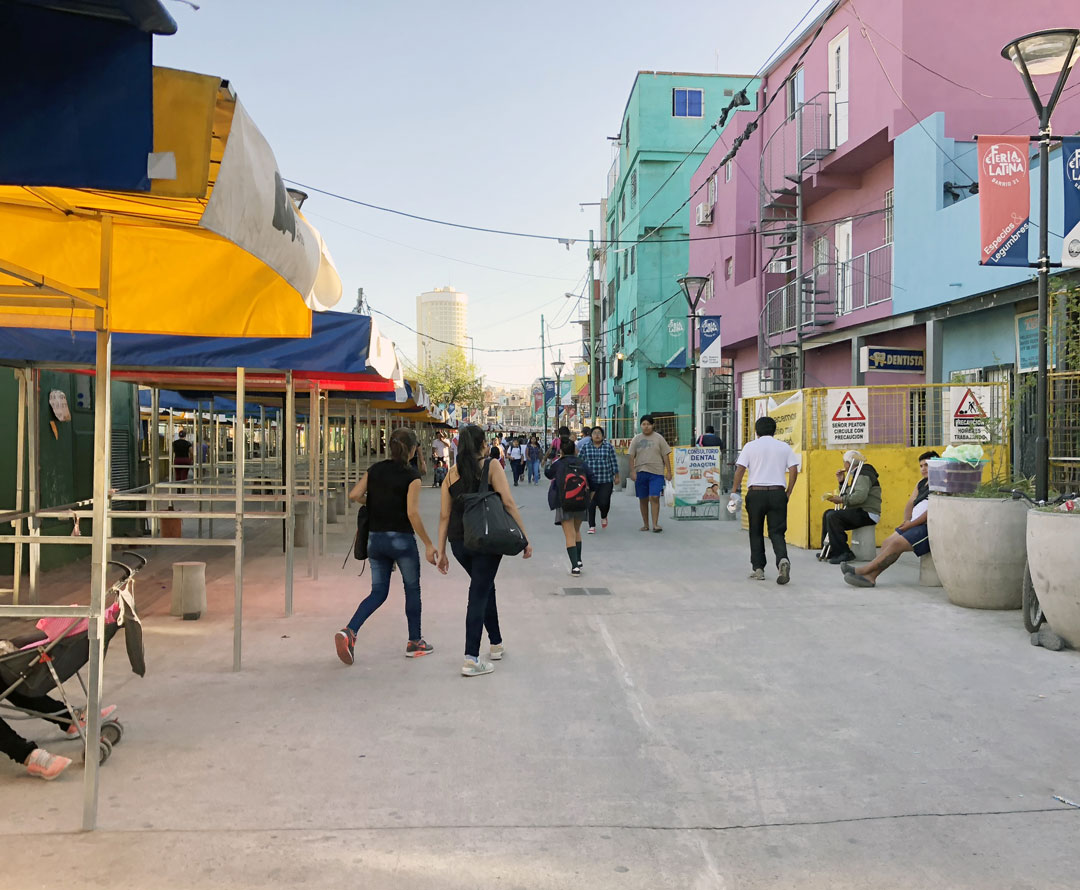 Working inside-out
With the sheer scale and pace of informal urban growth we must therefore think differently about our approach. At Gehl, we believe that advocating and working with methods that respect, learn from and build with local neighbourhood and community strengths are the only way to create change that both, improves living standards and the sense of belonging of informal settlement residents, and provides consequential benefits to the wider city.  After all, as we found in Buenos Aires, the informal settlements have much to offer the city, outperforming 'formal' urban neighbourhoods in vibrancy, community life and sustainable mobility indicators.
In the film we try to showcase the value of working with local citizens. We get a glimpse of the proposed permeable buffer zone around the Barrio, based on people's daily practices that will allow physical connection and accessibility between neighbouring neighbourhoods. We see how three alternative, flexible housing typologies took design cues from the existing strengths of informal housing. We show how private living conditions can be improved by engaging residents, empowering them to design and build spaces themselves, based on their realities, priorities and limitations associated with informal settlement life. We also show that the spaces in between are just as important as personal living spaces, balancing contextual public space interventions to support a dignified public life (replacing fundamental infrastructure e.g sewage, pavements, stairways), existing local services and competences (incorporating spaces for small shops and food stalls) and providing dedicated space for recreation, social and cultural activities (providing a new sports field and associated facilities).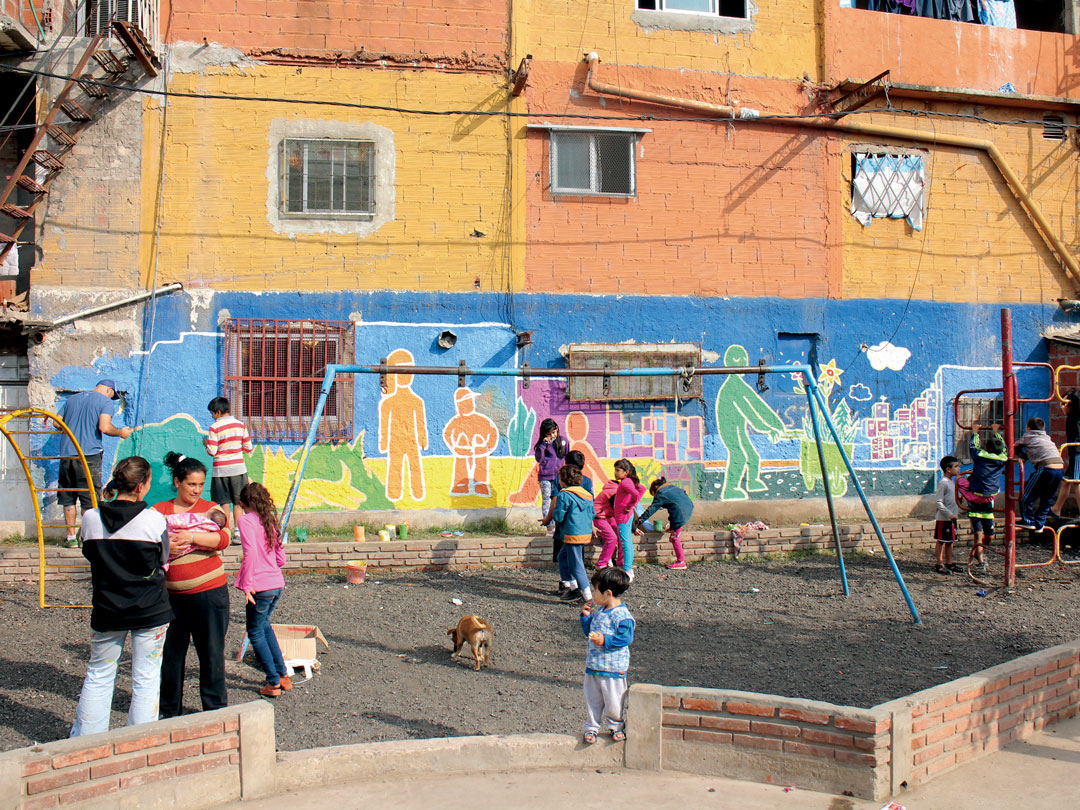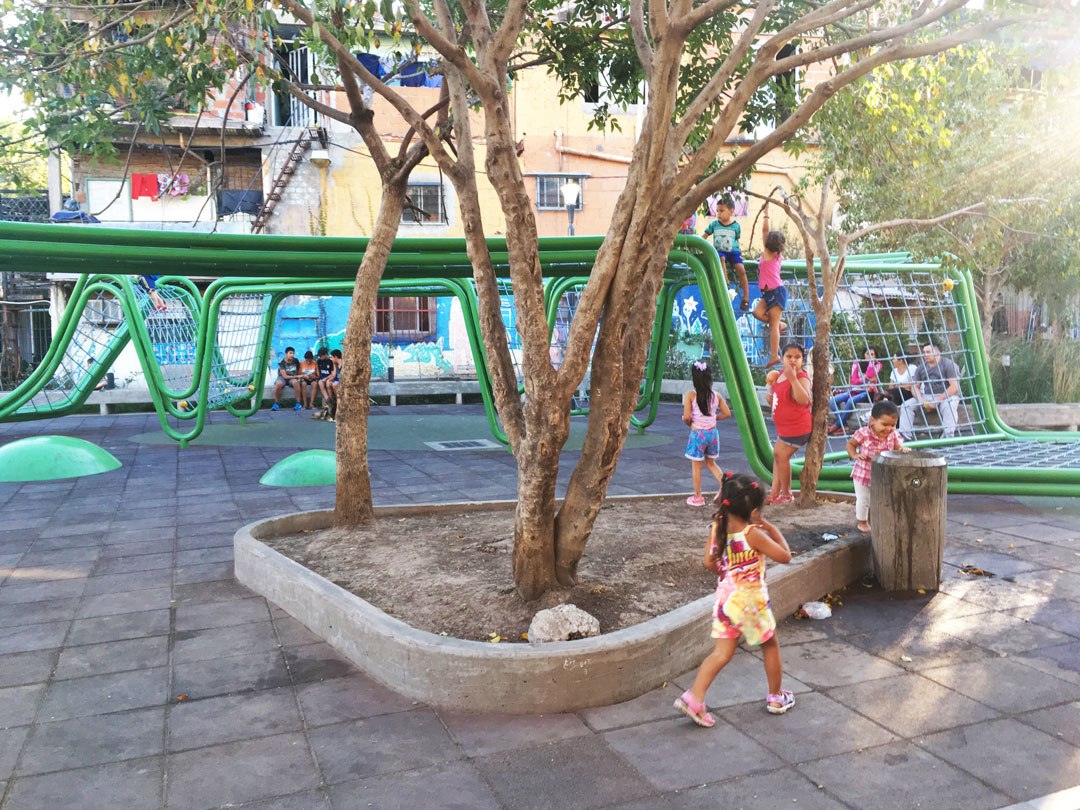 Ongoing actions in Barrio 31
We're thrilled to see the progress being made in Barrio 31 and we look forward to be a part of its continued development. As we publish this story there are a number of continuing developments:
Currently 118 families are living in the new residential buildings, known as the Containera in the Cristo Obrero sector, many of whom were relocated there by the extension to the Illia Highway. A new school and vocational training center have opened in early 2019, following the second (CeDEL) Center for Entrepreneurship and Labour Development that helps residents with labour integragtion, financial inclusion, and training and support.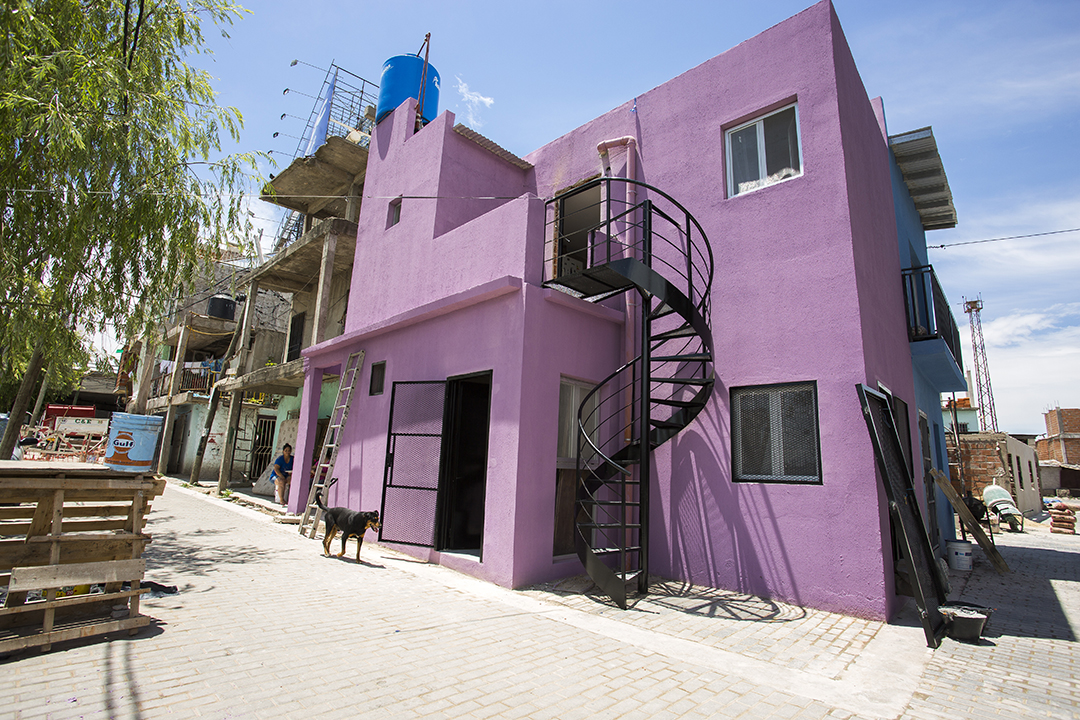 Improvements to housing are ongoing throughout the Barrio via the Housing Improvement Programme. There, according to the vulnerability of housing, professional rebuild or self-improvement efforts are supported. Today, over 2,000 homes have been improved or are undergoing work with the aim to reach more than 8,000 homes in the next four years.
New homes are currently being built at the site previously known as 'YPF property'. There, 1044 homes will be available for those currently living under the Illia Highway. As of September 2019, 46 families have already moved in with accompanying property titles, the first in Barrio 31. Significantly, in the same sector as the YPF property, the Maria Elena Walsh Education Center was built, consisting of a school and an adult education center with over 500 places. Next to this, the new headquarters of the Ministry of Education and Innovation for Buenos Aires is near completion, a major step for the formalization and reputation of the Barrio.
For more information about Gehl's work in Buenos Aires please contact Jeff Risom
Jeff Risom further explains Barrio 31.
Image credit: City of Buenos Aires & Carlota Pedersen Madero
https://gehlpeople.com/blog/can-architecture-tackle-the-greatest-global-challenges/?utm_source=Gehl+-+Blog+Subscriber+List&utm_campaign=ff02249c2e-GEHL_LIVE_UPDATE&utm_medium=email&utm_term=0_fee1a3d7b3-ff02249c2e-192143557