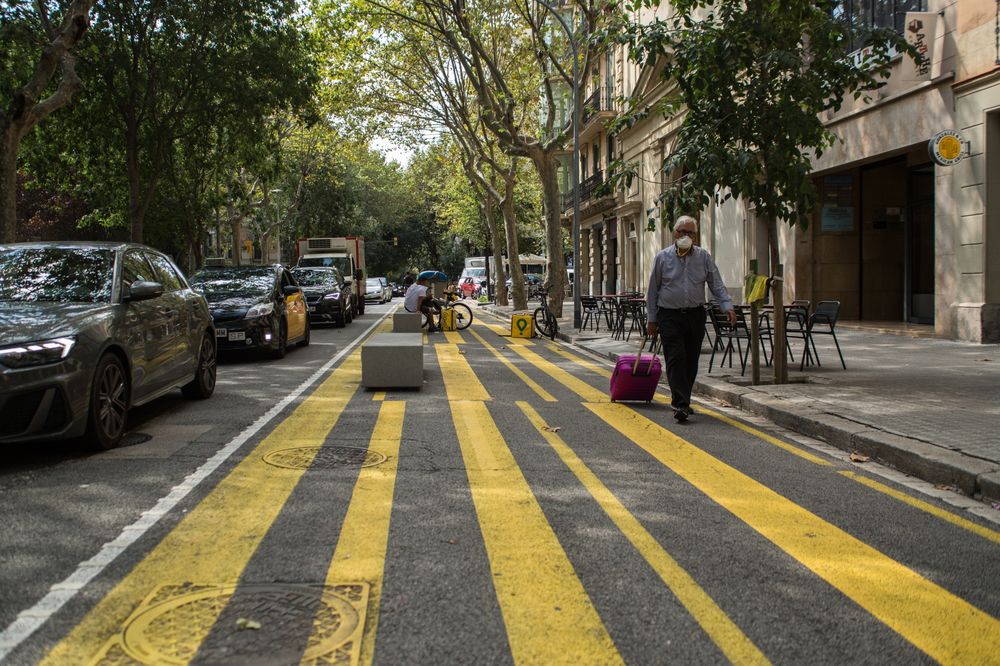 The Catalan capital's celebrated pedestrian-first zones are expanding to cover most of the city center, Mayor Ada Colau announced. 
Feargus O'Sullivan is a writer for CityLab in London, focused on European infrastructure, design and urban governance.@FeargusOSull
LISTEN TO ARTICLE
 4:55
SHARE THIS ARTICLE
Since the Spanish city of Barcelona introduced its first "superblock" in 2016, the concept of carving out islands of car-free space by routing traffic around multi-block areas has been influential in cities around the world. Now the Catalan capital plans a major super-sizing of the idea: Over the next decade, Barcelona will convert its entire central grid into a greener, pedestrian-friendly area almost totally cleared of cars.
At a press conference Wednesday, Mayor Ada Colau announced that 21 streets in Barcelona's Eixample district will become a kind of super-superblock — vehicle traffic will only be permitted around the perimeter, leaving streets within the district only accessible by motor vehicle to residents, essential services or deliveries. By all-but-barring cars, Barcelona will free up space for 21 new pedestrian plazas at intersections.
These squares and streets will be planted with trees that will shade 6.6 hectares (16 acres) of new green space when mature, in a zone that will contain an extra 33.4 hectares of pedestrian space. With work beginning in 2022 to a budget of 38 million euros ($45 million), the plan represents one of the most thorough revamps of a major European city so far this century. It is an attempt, Mayor Colau said in a statement, to "think of the new city for the present and the future — with less pollution, new mobility and new public space."
The new district is an order of magnitude larger than the first Superilla ("Super-island" in Catalan) in the district of Poblenou. Taking over nine city blocks, the 2016 redesign banished through-traffic to streets on its border. Within the block, car lanes were narrowed, and vehicles that still made it inside were required to give way to pedestrians and restricted to a maximum speed of 10 kilometers per hour. A further six superblocks have since been introduced. The city has long expressed an aspiration (albeit without a fixed end date) to ultimately transform its entire surface area with superblocks — this week's announcement is the largest step towards that goal to date.https://buy.tinypass.com/checkout/template/show?displayMode=inline&containerSelector=.transporter-item.current+.softwall%5Bdata-position%3D%274%27%5D&templateId=OTASZ9TG6IZ5&offerId=fakeOfferId&showCloseButton=false&trackingId=%7Bjcx%7DH4sIAAAAAAAAAI2Ry07DMBBF_8XrWrKdxK9doQ8CEo9Slao71562FmmaxC4pQvw7aUSRkFjgnX3uGc2MP5DxDmmU30xGYZKXzS0aoMpsYeGhzc-EEUYwZZhlmCpMFE4yzFSK31s6GzlbLRJRuGp_hw13ydoy4VIhWSpSlVCWZOsNV85xQVVXGE4VNB5KC33p8XIy5dny6n45zX7R8QnsMfpD2ceoJJmVkgSLSXdYfK3BlDFpDkJJug71q6zDL39of-SwO7Rz2FeFiTAbLYW8Wg2fHvPrFaedsjPhApGOzREGKH7fe_thPnxeqfmU56tzhxe2MI3vOjhHymNRDJA1-8r4bRkuD28–J6jN_zXBhNCcRS-HkEL5PbFvtQy_GeDvuq_hFAtN1JTwZwWqXMarBLaWMj0xtBUWyV5lz4GaIZbKGMnudaeJ4gF0pQTqVSWCP75BeRa7UUAAgAA&experienceId=EXFG65XBNXG5&tbc=%7Bjzx%7Dt_3qvTkEkvt3AGEeiiNNgFA5tDYWkvWIEFQpb54q5pgF3AitXZ1DFi2Wmp7pBY0pOvmjpSsLOaDZNZCola_13BCe60hFtWvrCXgq6jvm40qIt81l4GicR3G4kofk2hLhjylU0Z664w9lha1BgkmqDg&iframeId=offer-0-lktUa&url=https%3A%2F%2Fwww.bloomberg.com%2Fnews%2Farticles%2F2020-11-11%2Fbarcelona-s-new-car-free-superblock-will-be-big%3Futm_campaign%3Dsocialflow-organic%26utm_source%3Dlinkedin%26utm_medium%3Dsocial%26utm_content%3Dcitylab&parentDualScreenLeft=534&parentDualScreenTop=7&parentWidth=1281&parentHeight=743&parentOuterHeight=888&aid=IHFDsFInrJ&contentSection=content-article&pageViewId=2020-12-25-19-09-35-294-yw1RDdcpV37ldpmK-a6d3bc27d4782474931235bf69dd6719&visitId=v-2020-12-25-19-09-35-301-t7iqDewe0JWcWq8s-a6d3bc27d4782474931235bf69dd6719&userProvider=publisher_user_ref&userToken=&customCookies=%7B%7D&hasLoginRequiredCallback=false&width=620&_qh=ef042df47d
In a city of few parks and extreme population density, the superblocks have proved to be an effective way to free up street space for other uses, including new squares, public seating areas and tree-lined green avenues. But they have also faced resistance from motorists, who in the past have organized demonstrations to protest the car restrictions.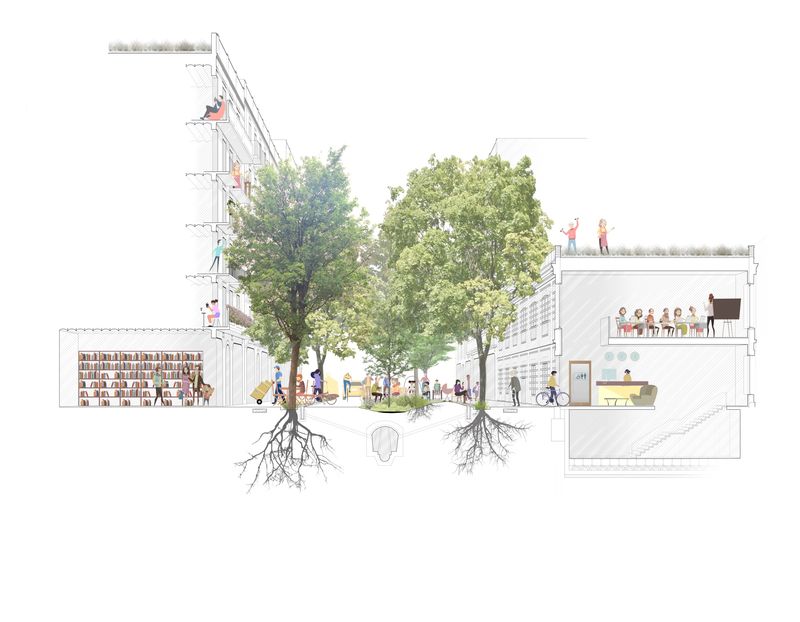 More fromWhy Trump's 'Beautiful' Federal Building Order May Be Here to Stay'Solidarity, Not Charity': A Visual History of Mutual AidFor Public Transit, the Stimulus Is a Lifeline — But a Short OneThe Covid Recovery Must Begin With Climate Action
Those objections may re-emerge given the scale of the new superblock announced Wednesday, which covers one of the densest sections of the city. So large the city is referring to it as the "Barcelona superblock," the project will probably prove more difficult to implement than those installed in quieter areas. While bustling parts of the city have been given the superblock treatment before — the current plan will extend from a smaller existing superblock around the Sant Antoni covered market — they have never extended for as great a distance as the new zone. The city is thus proposing a staggered introduction, one that starts by redesigning intersections along a single east-west axis and extends gradually across the neighborhood.
The plan kicks off with a public competition to create four new plazas along a main artery in the area — the Carrer del Consell de Cent — which is being revamped, along with three intersecting streets. From these four streets, the superblock will gradually march across the district until all 21 streets have been remodeled by 2030.
This is a process made somewhat easier by the connecting street in question having already been partly redesigned to permit more social distancing during the pandemic. Indeed, while the superblock expansion is not being framed by the city as a response provoked by Covid-19, the widespread adoption of remote work during the pandemic and the partial emptying of business districts has provided an opportunity to call for a reset to the ways urban space is used, and by whom, when the crowds return.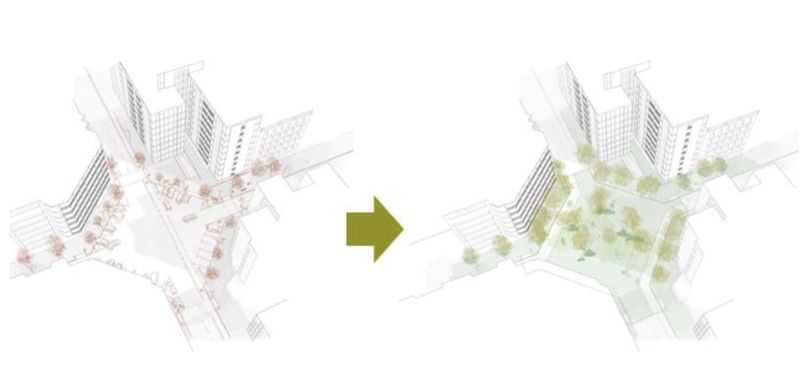 The exact design of these streets will be chosen from a public competition in May 2021, but the city has already created some tight specifications: At least 80% of the street should be shaded by trees in summer, while at least 20% of surfacing should be permeable, and half of this total planted with grass, to allow the ground to soak up rainwater and improve flood resilience. Priority should be given to creating safe spaces for children and older people, while all public areas need to be equipped with drinking fountains.
While the upheaval involved in the project — and the ultimate extension of the superblock model across all Barcelona — could be considerable, so is the public health payoff. The city believes it could free up 70% of its current road space for active travel and recreation space if it reaches its aspiration of covering its whole surface area in superblocks, slashing air pollution, carbon emissions and noise pollution in the process. Expanded tree cover could also reduce summer temperatures. According to a 2019 study published in the journal Environment International, a full realization of the city's 503-block plan could prevent 667 premature deaths per year.
That transformation is still years off, but the announcement of the new super-superblock suggests that the city is well on its way. 
https://www.bloomberg.com/news/articles/2020-11-11/barcelona-s-new-car-free-superblock-will-be-big