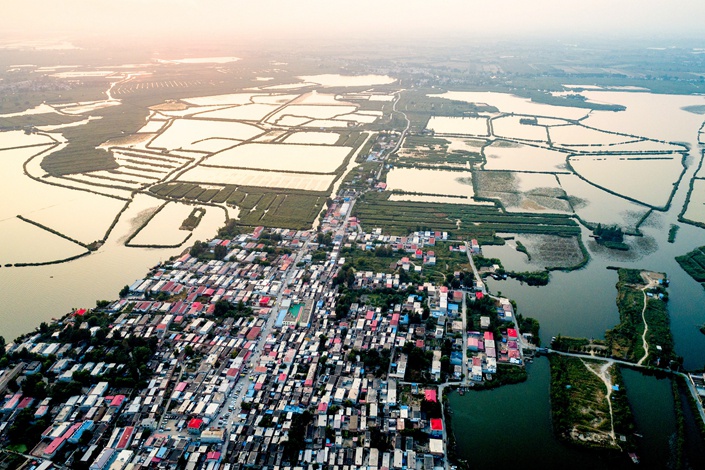 BEIJING: I live in a suburb of China's capital city, but technically it's within the city-limits. I asked my wife, Zhou Yawei, for clarification and was informed we live on the northeast edge of the city.
Nonetheless, my neighborhood has the look and feel of a suburb. Hence, we are surrounded by more open spaces, natural scenery, trees, fields and a far distance from the Central Business District (CBD). The location has its benefits but there a number of challenges as well.
As I become older with a family and a young son, Peter 5-years-old, I appreciate living at away from the bustling life of a city.
Chinese cities are over-crowded, noisy and there's constant movement, which can lead to stress. The suburbs offer a more serene atmosphere while having close connections to the city.
But China has imposed stringent passenger driving vehicle regulations and that makes it more difficult for residents to move out to the suburbs.
Most office jobs are found in the CBD or nearby and employees would have to commute long distances daily. Without a car, you have to rely on public transportation during rush hour.
The Beijing Metro – buses and subways – are very crowded.
From my own experiences, I have to depart from my home about two hours before 9 am to wait for bus to take me to subway station and the subway commute takes about 1-1/2 hours at the minimum, I have to stand much of that time.
My commute each work day is about four hours and sometimes longer. Therefore, I recommend people think more before choosing to live in a suburb of a Chinese city.
If you can drive a car at any time of day and night, I say go for it but if not than it's better to stay closer to the CBD.
However, the Chinese government has developed innovative urbanization plans, such as transforming rural townships into bigger cities, creating new satellite towns and building up mega-cities zones.
The strategy being to lessen over-crowing in the CBDs of major Chinese cities by spreading out population demographics.
For instance, Beijing intends to establish an urban development zone, known as Jing-Jin-Ji by creating a triangle zone with Beijing at the northern point, Tianjin to the southeast and a new town – Xiongan, about 100-km southwest.
Xiongan will serve as the new administrative capital, as well as welcome college campuses, research centers and think tanks.
Hence, the triangle is set to relieve congestion from Beijing while keeping residents and businesses in the area. Beijing remains the focal point, Tianjin as a port city can welcome international trading firms and spur growth of private enterprises.
Xiongan will be home to thought leaders and to promote education agendas. To open up Xiongan is smart since intellectuals prefer to live in more natural scenery so they have space to think.
We can read more about Xiongan from CCTV with a link here:
https://www.chinadiscovery.com/yunnan/places-to-visit-in-yunnan.html
As reported by 央视网_世界就在眼前:
"China's strategy is to transfer non-capital related facilities to Xiongan. Accordingly, we can expect to witness some of the top schools in the country opening up new campuses in the satellite city.
Xiongan will also become home to more hi-tech companies, Research and Development (R&D) centers, hospitals and administrative centers for government agencies."
China has other major cities with suburbs, including Shanghai, Shenzhen, Wuhan, and Chongqing. In the future, we should anticipate Chinese suburbs to become much more popular.